Coming events
Unfortunately, our ever-popular season of social evenings at Drottning Kristina's Jaktslott is on hold because of the coronavirus pandemic.
Winter-spring 2021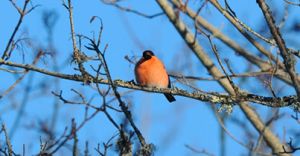 *******************************************
Online entertainment
The Cold Swedish Winter
(BBC Radio)
This is a long-running sitcom from Danny Robins, writer of the Lenny Henry comedy Rudy's Rare Records, giving the British view of Sweden. It is set and recorded in Sweden and stars Adam Riches, Danny Robins and some of Sweden's popular TV comedy actors.
"Geoff, a marginally successful stand-up comic from London, is moving to the tiny, cold and unpronounceable village of Yxsjö in northern Sweden - a culture shock forced on him by his Swedish girlfriend Linda's decision to move home to raise their child. Geoff has to contend with snow, moose, pickled herring, unemployment, snow, maypole dancing, snowmobiles, snow, meatball rolling, saunas, social democracy, snow, the weirdest pizzas in Europe, bears, deep forests, death metal, illegal alcohol, snow."
It is now in series 5 (Lagom lockdown), but you can catch up with all episodes starting from Series 1 several years ago. It might take you back to your own experiences of arriving in Sweden and adjusting to the culture.
National Theatre at Home
(rent a play or subscribe)
The National Theatre in London has made several of its streamed productions available for home viewing. Some of these plays were streamed at Bio Roy in Gothenburg in recent years but several have never been shown here.
"Unforgettable British theatre for you to watch any time, anywhere." More information here.
Romeo and Juliet
(free on YouTube)
Shakespeare's Globe theatre in London has made their 2019 production of Romeo and Juliet available on YouTube.
Packed with love, family feuds and a dose of comedy, this is a full-scale, fast-paced 90 minute performance (with no interval), designed to introduce students and families to Shakespeare.
Edinburgh International Festival
(free on YouTube)
The festival is this year providing a wide variety of performances (contemporary/traditional/classical music, opera, dance, art installations and theatre) for viewing online. See their programme of online events.
To watch the videos from the comfort of your own home, go to the Edinburgh Festival YouTube channel.